On this page I'm going to offer my software for managing Projects and Tasks, which is namend RemindMe.
RemindMe is an easy to use application for Windows-Users and needs neether an installation, nor administrative rights.
You can find the German Product-Page here
Your advantages
create tasks and projects easily – from everywhere with just a few clicks
find everything fast & easy – no matter if tasks, documents or notes
add documents to tasks and projects – decrypt, versionate or copy them,
manage and archive documents for later use
dashboard with all important informations of appointments, tasks and projects
delegate tasks and work as a team on projects to get thinks done
track time of your work to calculate the effort
break down big tasks into smaller ones to get started
work visual on a kanban-board for an easy overview
easy automatic planning of the day with two clicks
add your own fields to save YOUR need of data
write protocol for each task, so you dont have to remind on it
portable, no admin, no registry-entries, just copy on SD or USB-Stick
and many many more…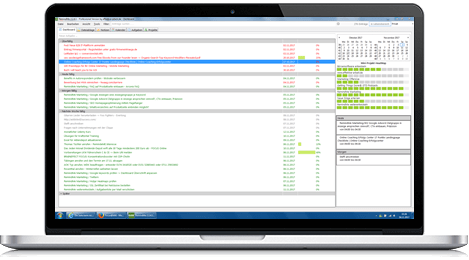 To make your own experience, download the current version and test all features for 30 days for free!
Testimonials
RemindMe is a clear tool that you can use to structure your tasks and projects.
M. Basse
Writer at GIGA.DE
We came across RemindMe through research on the Internet about team solutions for task management. We use the program to overview and manage tasks in the disposition. The software won us over because it is simple, focuses on task management and data storage can be done locally. We can only recommend RemindMe.
I. Janssen
Executive Director at Janssen KG Rhede/EMS
We needed a technical solution for the joint processing of tasks that are located at a central point.
All previous attempts about the possibilities of existing office communication solutions for well-known products on the market have not been satisfactory enough or have been subject to restrictions that more hindered than supported us.
Today we use RemindMe both for the joint management of tasks and for the documentation of project progress and as a reference work for researching previous processes. Linking tasks with the associated directories in the filing system makes our work processes much easier.
We would recommend RemindMe to anyone looking for easy-to-implement yet powerful task management software.
T. Bronner
City administration of Albstadt
We were skeptical before buying it and asked ourselves whether such cheap software could be good. But after a test phase we were convinced: yes it can!
RemindMe supports us with our projects and resubmissions, as well as with the processing of processes in a team. We appreciate the quick reaction of the hotline and that a solution was always provided to us if we had any questions.
We wanted another function in the software. After an inquiry with Mr. Stern, we were offered a solution that was implemented quickly.
We can only recommend RemindMe.
S. Schmid
Executive Director at Hausverwaltung Schmid
Pricing
RemindMe costs you only 2€ for each user each month (just order a number of months and users, licence can be expanded anytime)
payment would be by bank transfer or Paypal
order your copy via the contact-form at the bottom.
Still hesitant?
Watch RemindMe in action to see, how easy it is, to work with this software. Currently the video is in german only.
Contact me / order now
About me
My name is Andy, i am a software developer and currently working as a service manager.
I have started to develop RemindMe in 2015, to manage my tasks and projects while i was working as a project- and service manager.